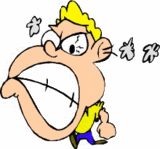 Today we'll interview Svanik Elderson-Anderson Jr., our,uh different friend on FOX NEWS 11' : IT'S WONDERFUL! CHA!
Jessica- Svanik, what's your favorite color?
Svanik- YELLOW!
Me- (sarcastically) Like everyone else!!!
Jessica- HMMHMM! Svanik- What's your favorite song?
Svanik- The Awesome song!!!
Me- (sarcastically) ME, TOO!
Jessica- Back to you, I suppose?
Me- Of course. Svanik, your favorite hobby?
Svanik- Passiing gas.
Me - AND THAT'S ALL TONIGHT! Thanks!
Ad blocker interference detected!
Wikia is a free-to-use site that makes money from advertising. We have a modified experience for viewers using ad blockers

Wikia is not accessible if you've made further modifications. Remove the custom ad blocker rule(s) and the page will load as expected.