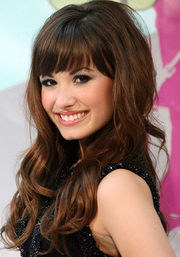 "Demi" Lovato was born August 20, 1992. She is an American singer, songwriter, musician, and actress. Her earliest roles included Angela on Barney & Friends, before she became better known for her starring roles in the Camp Rock movies, as Sonny Munroe in Sonny with a Chance, and as the star of the 2009 movie Princess Protection Program. She is also involved in philanthropic activities through charity work and various social and environmental causes.
As a solo musical artist, Lovato released her debut album DON'T FORGET on September 23, 2008. The album debuted at #2 on the BILLBOARD 200 selling 89,00 copies in the first week. It has since shipped over 500,000 copies earning a Gold certification in the United States Lovato releases her second album Here We Go Again, on July 21, 2009. The album debuted at #1 on BILLBOARD 200, selling 108,00 copies in the first week.
Ad blocker interference detected!
Wikia is a free-to-use site that makes money from advertising. We have a modified experience for viewers using ad blockers

Wikia is not accessible if you've made further modifications. Remove the custom ad blocker rule(s) and the page will load as expected.